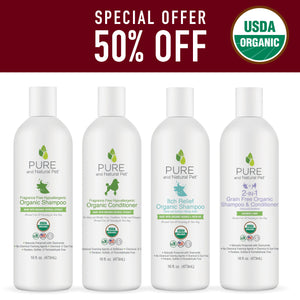 USDA Certified Organic Shampoo and Conditioner Variety Pack
---
Our best-selling organic shampoos and conditioners are now available in a convenient Variety Pack with special savings!  Included are:
Fragrance Free Hypoallergenic Organic Shampoo

(

 

16 oz.)

Fragrance Free Hypoallergenic Organic Conditioner 

(

16 oz.)

Itch Relief Organic Shampoo (alleviates skin irritations and allergies) 

(

16 oz.)

2-in-1 Grain Free Organic Shampoo & Conditioner 

(

16 oz.)
Soothing, natural, and especially gentle for dogs with the most serious allergies, our USDA Certified Organic shampoos and conditioners are pH-balanced and contain no parabens, phthalates, or sulfates. A perfect solution for dogs with allergies and sensitivity issues, our clean ingredients provide a calming and moisturizing bathing experience without the use of any chemicals.
DIRECTIONS
Shake well before use. Use sparingly. Wet fur, apply directly to the dog, and massage into coat. Rinse thoroughly.
Not recommended for use in grooming machines, these organic shampoos & conditioners are not a concentrate and are RTU (ready to use). 
Please store our organic products with a tightly sealed cap in a cool environment, not to exceed 72 Degrees Fahrenheit. Once opened, they have a 90-day shelf-life.
INGREDIENTS
Fragrance Free Hypoallergenic Organic Shampoo:
WATER, USDA CERTIFIED ORGANIC CASTILE SOAP, USDA CERTIFIED ORGANIC ALOE VERA EXTRACT, USDA CERTIFIED ORGANIC CHAMOMILE EXTRACT, USDA CERTIFIED ORGANIC GLYCERIN, USDA CERTIFIED ORGANIC GUAR GUM, USDA CERTIFIED ORGANIC JOJOBA OIL, USDA CERTIFIED ORGANIC OLIVE OIL, USDA CERTIFIED ORGANIC COLLOIDAL OATMEAL, USDA CERTIFIED ORGANIC CALENDULA OIL, USDA CERTIFIED ORGANIC NIAOULI OIL,USDA CERTIFIED ORGANIC NEEM OIL, USDA CERTIFIED ORGANIC CITRIC ACID, USDA CERTIFIED ORGANIC SEA BUCKTHORN FRUIT OIL, USDA CERTIFIED ORGANIC GOLDENSEAL EXTRACT, USDA CERTIFIED ORGANIC GREEN TEA EXTRACT
Fragrance Free Hypoallergenic Organic Conditioner:
USDA CERTIFIED ORGANIC ALOE WATER, USDA CERTIFIED ORGANIC GLYCERIN, USDA CERTIFIED ORGANIC CALENDULA OIL, USDA CERTIFIED ORGANIC JOJOBA OIL, USDA CERTIFIED ORGANIC OATMEAL EXTRACT, XANTHAN GUM

Itch Relief Organic Shampoo:
WATER, USDA CERTIFIED ORGANIC CASTILE SOAP, USDA CERTIFIED ORGANIC ALOE VERA LEAF JUICE, USDA CERTIFIED ORGANIC CHAMOMILE EXTRACT, USDA CERTIFIED ORGANIC GLYCERIN, USDA CERTIFIED ORGANIC GUAR GUM, USDA CERTIFIED ORGANIC PEPPERMINT OIL, USDA CERTIFIED ORGANIC JOJOBA OIL, USDA CERTIFIED ORGANIC OLIVE OIL, USDA CERTIFIED ORGANIC COLLOIDAL OATMEAL, USDA CERTIFIED ORGANIC GREEN TEA EXTRACT, USDA CERTIFIED ORGANIC GOLDENSEAL ROOT EXTRACT, USDA CERTIFIED ORGANIC CALENDULA OIL, USDA CERTIFIED ORGANIC NIAOULI OIL, USDA CERTIFIED ORGANIC LAVENDER OIL, USDA CERTIFIED ORGANIC SEA BUCKTHORN FRUIT OIL, USDA CERTIFIED ORGANIC NEEM OIL, USDA CERTIFIED ORGANIC OREGANO OIL, USDA CERTIFIED ORGANIC CITRIC ACID

2-In-1 Grain-Free Organic Shampoo & Conditioner (Lavender & Mint):
WATER, USDA CERTIFIED ORGANIC CASTILLE SOAP, USDA CERTIFIED ORGANIC ALOE VERA EXTRACT, USDA CERTIFIED ORGANIC CHAMOMILE EXTRACT, USDA CERTIFIED ORGANIC GLYCERIN, USDA CERTIFIED ORGANIC GUAR GUM, USDA CERTIFIED ORGANIC LAVENDER OIL, USDA CERTIFIED ORGANIC JOJOBA OIL, USDA CERTIFIED ORGANIC OLIVE OIL, USDA CERTIFIED ORGANIC PEPPERMINT OIL, USDA CERTIFIED ORGANIC CALENDULA OIL, USDA CERTIFIED ORGANIC NIAOULI OIL, USDA CERTIFIED ORGANIC CITRIC ACID, USDA CERTIFIED ORGANIC GOLDENSEAL EXTRACT, USDA CERTIFIED ORGANIC GREEN TEA EXTRACT